House of Retreats
Three days and nights in silence, not that long in the scheme of life. 
Self-reflection is crucial to any sound mind. To reset from electronics and the responsibility of helping others, this was time to self-care.
Living in New Orleans, I do what I can to help the awakening of people. New Orleans is unique and the city where I grew up. 
The city after Katrina has changed and is now crowded with people from all over the United States and worldwide most who do not understand or respect the culture they came to enjoy. It is sad.
My retreats around the world have taught me about cultures and myself. I see the city like a pot boiling with all the frogs or friends that have never left and cannot feel the changes.
One thing all self-reflection does relate is the truth of carving the space within that is safe. New Orleans and the old ways from it are in my blood and no matter what changes I will remain with that love and character and bring it with me as any good native does.   
The essence of New Orleans and its authenticity has changed and I needed reflection. Three days and nights to spiritually restore and dive deep into understanding more about my life. To experience a reorientation for me was crucial to my well-being.
I always say, "to be the best provider of healing I can be; I have to be my first client."
And that was what taking this time for me was supporting. Because my grandfather went to a retreat annually I decided to give it a go. 
Dr. John Menville went to a yearly retreat at Manresa and eventually became a captain, bringing others with him. 
As a kid, I remember him talking about his retreat and how much it meant to him spiritually.
My grandfather was raised in Houma, Louisiana, and moved to New Orleans to go to Jesuit high school in 8th grade. Together with that education and his parents, he learned to be a man for others. 
He was a four-letterman at Jesuit and Tulane University. After attending Tulane Medical School and doing three residencies, he returned home to practice Urology. A Captain in the Navy, he performed his duty as a medic in World War II.
Gramp pretended to be serious, but underneath he loved to make everyone laugh and was hilarious. When he made rounds at the hospitals, he first brought coffee to the ladies working at the information desk. He never charged nuns, priests, or widows. 
His secretary complained there would not be enough to pay the bills. He always said they would manage. And they did.
Unconditional Love.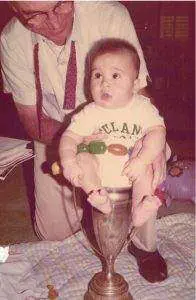 The first time I registered the feeling of unconditional love was with this man, my grandfather. I remember lying about something when I was fourteen. It was during a holiday, and we usually ended up at his house for the family to get together.
I told him what I had done and that I didn't want to do that anymore. It was in the coat closet/room with a baby piano on the side, and I was face to face just he and I. He looked at me and did not say anything, just hugged me.
This action was a right of passage, one man to another. It was freeing and permission to be a better me. 
To this day, I am grateful that Grampa met me with love from a man I respected, admired, and I knew he loved me.
I have been fortunate to have a lot of good role models and mentors in my life. And through this type of support, I have also taken myself on to become the best version of me I can generate.
Part of this process repeated in different mediums has been a self-reflection. For example, at Manresa, I came up with many valuable insights.
Retreats and Takeaways.
I understand that a man is to find himself and grow to be a pillar in a community, and no two pillars are alike. But, likewise, not all pillars will hold up the same houses.
My world of owning my own business at twenty-three and pioneering many other projects led me to a place of destiny in service for others doing what I do now. My place or pillar was for a different house than that of the corporate world. I am a pillar of healing.
Everyone I know has pains and hurts. Allowing the life and dream to continue beyond those hurts is what makes the world move. Being a victim serves no one and creates a vicious cycle of being stuck in perpetual pain.
Silent and listen have the same letters.
It is a great honor to be heard. The self-respect required to listen is much of the healing provided from hearing your soul speak when being silent long enough.
Hurt people, hurt people.
It is best to find a path to healing before becoming a problem in society. Each person's hurts are as large as the next person's, no matter what it looks like to outsider's eyes. 
Pain is a part of life, like suffering. No one can suffer forever.
Gratitude is a virtue that will strengthen us, and this re-focuses pain.
So a meditation step into shifting one's being is to be grateful. Reflect on all you are thankful for, and the moment opens like a door to fresh air.
A big thank you to Manresa for the opportunity to be with me in the company of others who wanted more from their life.
And thank you, Ancient ones, for your words of wisdom and your actions. You were whispering ancient knowledge in the air and giving hugs to set us free.
I love you, Grampa. You live on through me. Thank you for sharing knowledge from all of your retreats. 
I wrote a short poem inspired by the experience;
In December in Louisiana, I wrote this poem after looking out of a window at giant oaks trees with moss hanging from them, blowing in the wind. My favorite part of New Orleans since I was a kid has been the oaks. They were standing majestically, creating an arbor for the streets, shading, and reaching for me.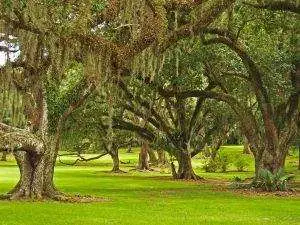 The Wisdom of the Ancient Ones
The long drawn out dangling beard blows in the wind as if being stroked with knowledge seeping in, so majestic, secure, stable, and tall, the bark of which need to say nothing at all.
The presence alone breathes wisdom into the air.
These ancient ones are a representation of time standing still.
Each tree is a house and home in all conditions.
How bold and how brave to bear all, to all, everywhere.
Persists to giving having taken root to stand. So firmly in its landing, as a simple tiny acorn once upon a time, not big at all.
Oh great one who sees and hears all, let your knowledge enter in my conscious sphere, that I may grasp the whispers of wisdom blowing in your beard.
(c) Matthew Ancira